WGP#1 WORLD SERIES 2021
AMERICA(USA)-ROUND 2│6-10 OCTOBER 2021
English
Language

Thai
Language

Japanese
Language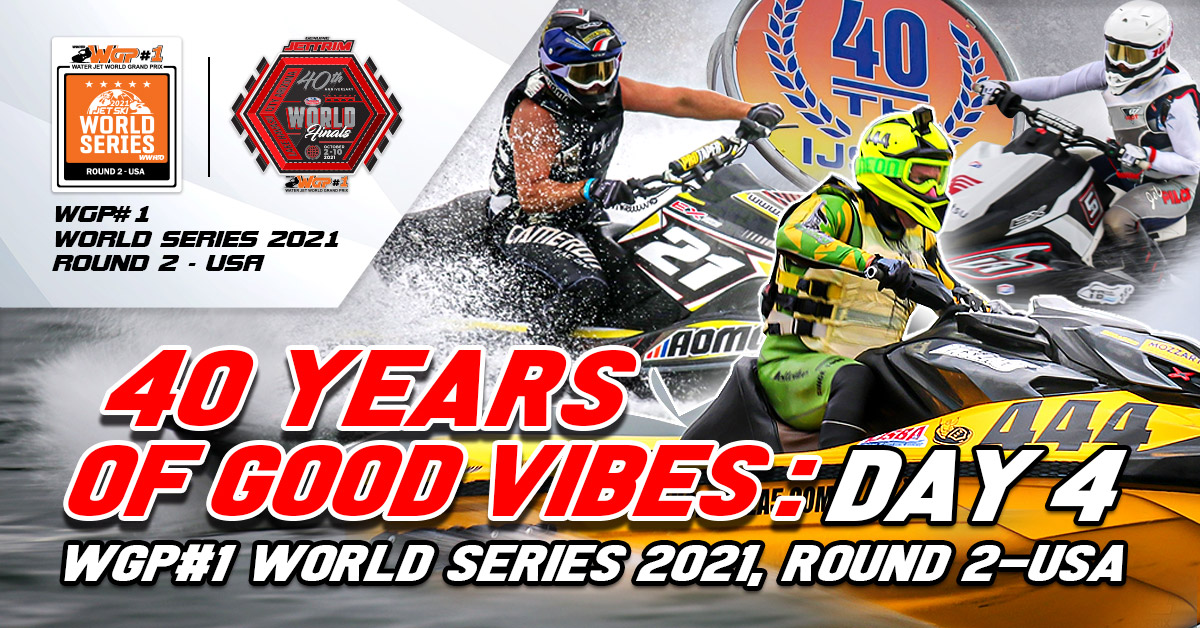 40 YEARS OF GOOD VIBES: DAY 4 OF RACING AT THE IJSBA WORLD FINALS and WGP#1 WORLD SERIES, Round 2

It really hit home today that the IJSBA has hosted 40 years of World Finals. We were joined by a number of older riders supporting the event, their families and new talent in the sport, and were swapping stories of what jet ski racing used to be like, and where it has come today. It truly is an honor to be a part of this important legacy in jet ski racing.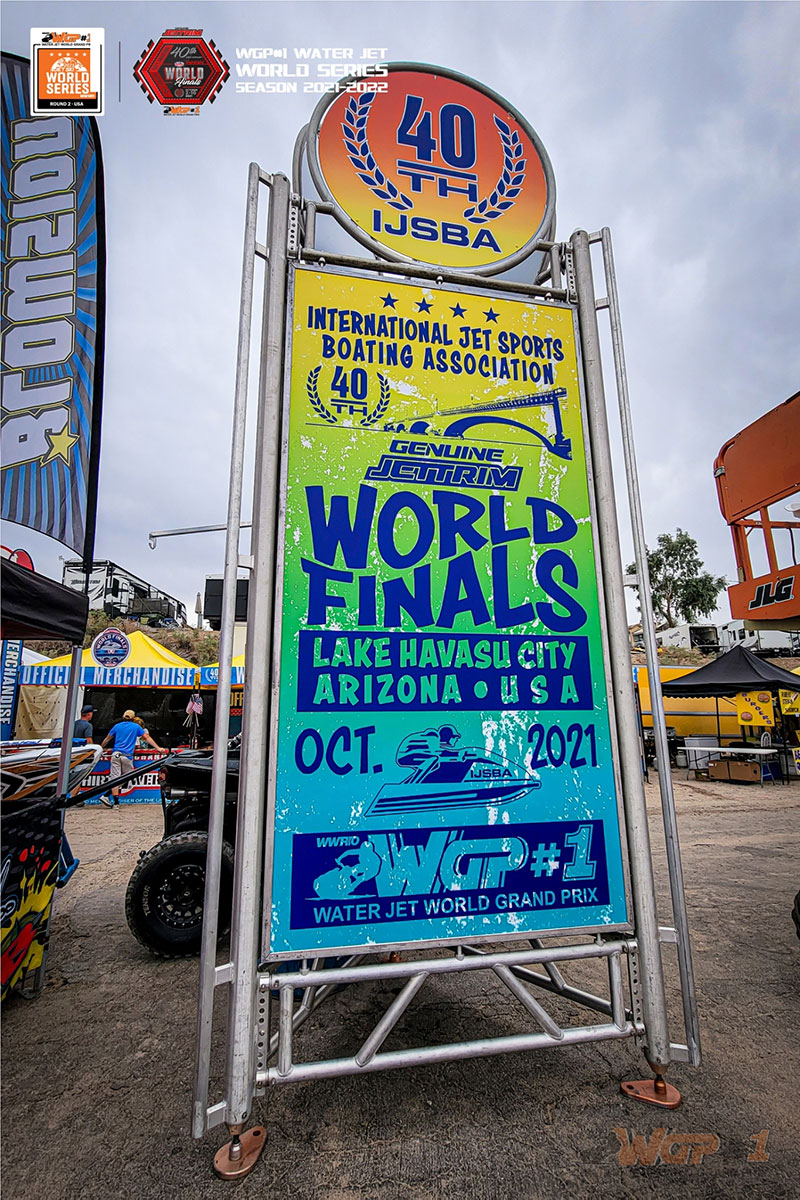 The day started overcast and windy, posing an additional challenge for our riders. However, we had more spectators join the stands despite the weather conditions. And they were lucky to do so because they would have been treated to the following standout performances.

In the Pro Am Runabout Superstock (category #13) class, 2019 World Series champion (and countless world champion), #66 Mohammad Burbayea asserted his dominance in Runabout by taking the overall win. This was one of the most entertaining classes to watch throughout the day as the leader in the races kept changing; it was truly anyone's race to win. Honorable mentions to second and third place finishers, Hungary's Cseke Zsolt and Denmark's Marcus Jorgensen. Well fought, gentleman.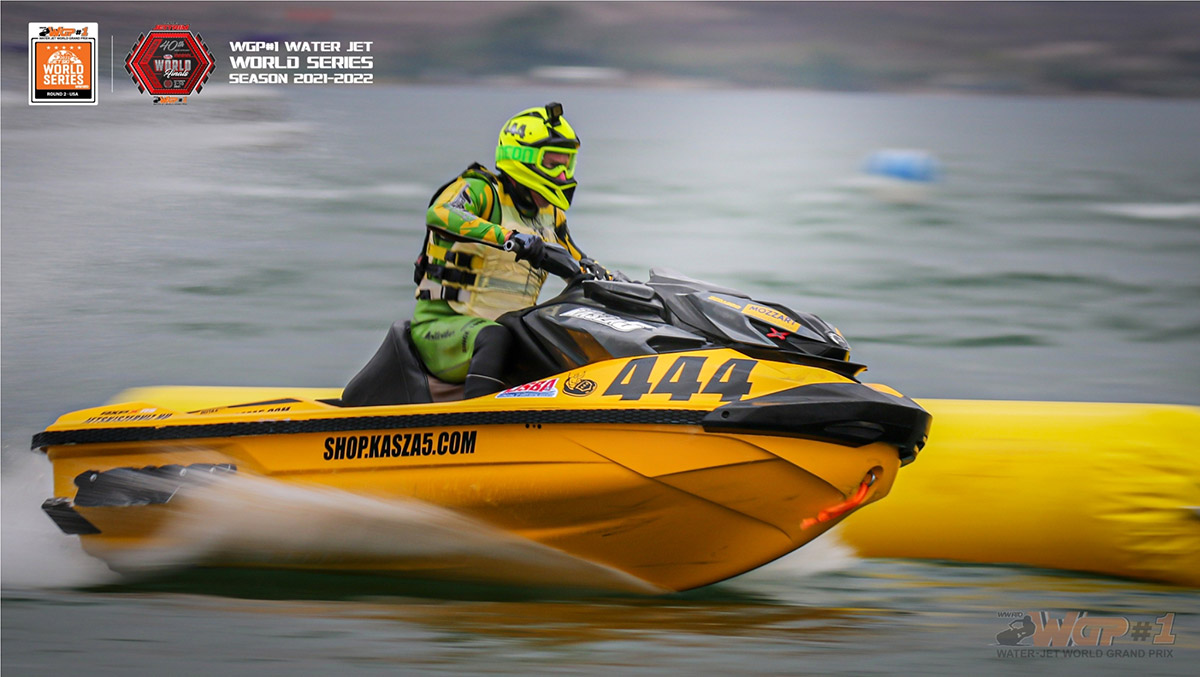 Pro Am Ski Lites (category #8) belonged undoubtedly to breakout USA rider, #155 Coy Curtis. Coy has been setting an incredibly high bar for his competition all week, and nabs his third world title with this three-moto win. Fun fact: Coy smoked all holeshots, and won all the motos in which he grabbed the holeshot. Congratulations to runners up, #100 Revin Harris and #419 Jeff Hansen!

The Pro Runabout 1100 Open (category #3) class was an impressive one. USA's #21 Cameron Frame took the win in every moto, and consequently the World Title in the category. This win was made even more special as his young son was a part of his support crew, and our intelligence confirms that his son may start racing next year! Salvage boat rider, #T5 Book Sermsuwan from Thailand, pulled a respect-worthy second place, followed by fiery Miami rider, #176 Valentina Lezcano in third.

Pro categories coming at you in less than 12 hours! Don't miss it!!
WGP#1 WORLD SERIES
9 October 2021
---




Organized by :
WATERCROSS WORLD - ASIAN MULTI SPORTS &
ENTERTAINMENT CO.,LTD

Tournament Owner :
JET SKI WORLD CUP GRAND PRIX CO.,LTD. 

Powered by Asian Multi Sport & Entertainment
© 2021 by jetski-worldseries.com .All right reserved.